Don't bring your camera to the Color Run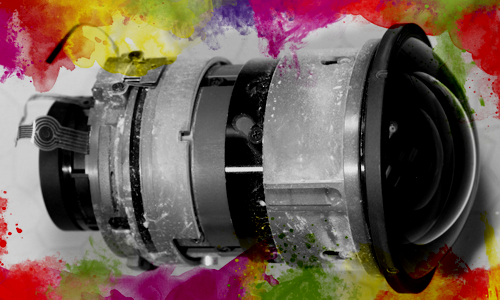 If there hasn't been a "Color Run" 5k or 10k race near you, there probably will be soon. And with all that color, you certainly want to take some pictures, right? Not - with your camera you don't.
You should not worry about some dust in your lens, but the "color bombs" they throw out at "Color Runs" are different. Lenses and cameras are nearly ruined by these. A few dust specs rarely cause problems, but this kind of dust - inside the front and rear elements - affects light transmission and contrast, as well as causing fascinating flare (in pretty colors). The color dust is very fine, tiny specs, made to stick on people as the run by. Because of this, the lenses' weather sealing, front filters, etc. don't even slow this stuff down. It is throughout the entire lens stuck on every element, on the gears and helicoids, and in the mirror box of the camera too. And yes, that includes pro-level lenses on pro-level cameras, all of which are supposedly weather sealed. As an added bonus, it does not blow out like regular dust. It must be wiped off.
The end result for these lenses is complete disassembly and cleaning. Some are fairly lucky ones – lenses that can be disassembled and cleaned without requiring factory readjustment. For a lot of lenses that's not an option. The dust around the mount side of the lens sometimes is so thick that it blocks the AF motor from working properly and it is so caked into the lubricant that the helicoids do not zoom normally. A number of lenses, including Canon L's and Nikon Pro lenses must be sent to the factory, and the risk is to receive the "financially not feasable to repair" sticker. Your guess is as good as mine as to whether they cover it under warranty or not.
You know what I'd probably find more interesting than the photos of what the insides of lenses look like after this? What the inside of the runner's lungs look like. All my medical training leaves me curious about that kind of thing.
Credits - WorldwideRunning.com would like to thank Lensrentals.com for the permission to reprint the article, slightly adapted, "How to Ruin Your (or Our) Gear in 5 Minutes (Without Water)" by Roger Cicala. For the full original article with illustrative photos, visit Lensrentals.com. LensRentals.com carries all the major camera and lens brands.
---
Since September 7, 2007 - © Aerostato, Seattle - All Rights Reserved.


JOIN THE WORLDWIDE RUNNING NETWORK
5kCalendar.com | AccidentalAthlete.com | CalendarioTrail.it | CorrereNelDeserto.com | DeadRunnersSociety.com | HalfMarathon.net | ePodismo.com | MarathonCoupons.com | Maratone & Maratoneti | OlympicGamesMarathon.com | RoadRacingStats.com | Run100Days.com | RunningCalendar.com | RunningInItaly.com | TuttoMaratona.com | Ultramaratona.it | VerticalRunning.it | WorldwideRunning.com