First prize: a live camel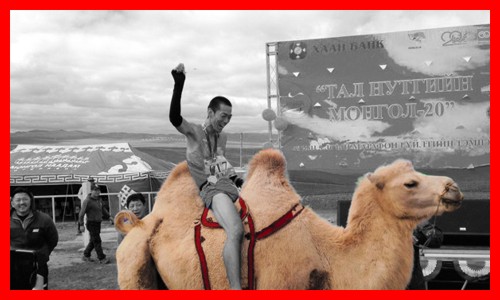 UNDUR DOV, MONGOLIA — In a day of surprises, a much bigger one was in store for Ikuo Omichi after he competed in a grueling 100-kilometer ultramarathon in the vastness of the Mongolian steppes. He was presented with a camel for coming first past the finish line.
The prize was a mark of the esteem Mongolians held for the champion, who took 9 hours and 57 minutes to complete the longest portion of the 20th "Mongolian steppes international marathon" on September 4.
To say that Omichi was astonished is to put it mildly. But he could hardly take the animal back to Japan as Tokyo enforces a ban on livestock imports from Mongolia as part of measures to help prevent foot-and-mouth disease.
Five male runners from Japan, including the 34-year-old Omichi, followed a trail through the steppes outside the capital of Ulan Bator. The temperature was a bracing 5 degrees when the athletes started out at dawn. Strong gusts of winds were a major concern, said Omichi, who works for the city government here. He expressed astonishment at the great expanse of Mother Nature, with the steppes spreading in every direction. The sight of horses and sheep in herds was magnificent, and "the air tasted really good", Omichi said. The dirt road was full of potholes - a runner's worst nightmare - and most likely the work of rats. Omichi said he was also distressed by the scarcity of refreshment points.
But his big surprise came during the award-giving ceremony, when he was invited to name a camel. No sooner had he settled on the name of "Go" than he was placed astride the animal's humps. Omichi was encouraged to take a "victory lap", and cheers arose from among the spectators crowded around him.
Officials with the Consulate General of Mongolia in Osaka said the gift of a domestic animal is considered a token of respect and affection in Mongolia. As camels are known for their ability to travel vast distances across deserts without drinking any water for days, the gift of such an animal was probably considered particularly apt for a champion who had overcome great obstacles to claim victory, the officials said. As Omichi was unable to bring Go to Japan, he asked nomads to look after the animal before he left for Japan. When he bade farewell, the nomads asked him to visit Mongolia every year, Omichi said.
"You are filled with a sense of fulfillment after challenging your own limits and overcoming pain and hardships", Omichi, a runner of eight years, said in explaining his passion for ultramarathons. "The taste of beer that permeates your body is without parallel after such a race".
Omichi is the inaugural champion in the 100-km division, which was set up to commemorate the 20th of the "Mongolian steppes" marathons.
Once back in Japan, Omichi's workplace colleagues celebrated the birth of a new international hero, who, in their words, has "had his name engraved in the history of marathon in Mongolia".
Credits - This true article, "Hyogo runner thought he was over the hump after marathon" by Hajime Hirokawa, was published on "The Asahi Shimbun".
---
| | | |
| --- | --- | --- |
| | | True running stories - A growing collection of incredible, bizarre, and unusual stories from the world of running. Prepared to be shocked at what we uncover when it comes to strange news, first-hand accounts, headlines, and reports from running around the world. |
---
Since September 7, 2007 - © Aerostato, Seattle - All Rights Reserved.


JOIN THE WORLDWIDE RUNNING NETWORK
5kCalendar.com | AccidentalAthlete.com | CalendarioTrail.it | CorrereNelDeserto.com | DeadRunnersSociety.com | HalfMarathon.net | ePodismo.com | MarathonCoupons.com | Maratone & Maratoneti | OlympicGamesMarathon.com | RoadRacingStats.com | Run100Days.com | RunningCalendar.com | RunningInItaly.com | TuttoMaratona.com | Ultramaratona.it | VerticalRunning.it | WorldwideRunning.com