Toxic seaweeds kills runner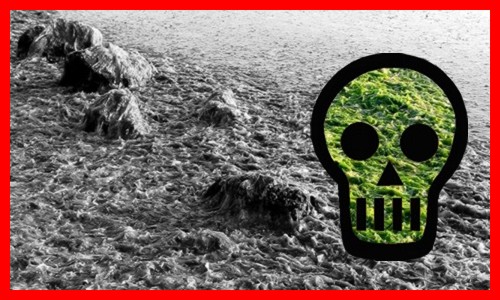 BRITTANY, FRANCE — A jogger is feared to have died after being overcome by toxic fumes coming from seaweed - sparking a major health warning in coastal areas. The stricken runner is believed to have been affected while exercising in Brittany, France, triggering fears of a similar danger across the water in Jersey.
Nine experts, including four toxicologists, have linked the death with "sea lettuce" - a green algae that produces hydrogen sulphide when trapped under a seaweed crust - and can prove as deadly as cynanide.
Beaches across Brittany have been struggling to dispose of thousands of tons of ulva lactuca - more commonly known as "sea lettuce" - for several years.
If the hydrogen sulphide is suddenly released from the dried out seaweed it can quickly overcome a human being and be fatal. The death of the runner - believed to have been overcome by fumes - has raised fears in the Channel Islands, where a similar type of seaweed builds up every year.
The group of experts have now challenged the findings of St Brieuc's public prosecutor's office, which said in December that gas poisoning could not be ruled out in the case, but that the cause of death could not be established. They have called for the release of the autopsy report as well as histology results, which involved the examination of the deceased's cells and tissue.
Fumes from decomposing seaweed have also been linked by some to the deaths of several wild boars in 2011 and a horse in 2009 in northern France - and there is a annual build up every year at St Aubin's Bay in Jersey. Authorities in Jersey are now considering what approach to take to reduce local blooms of sea lettuce, which can be removed at the request of the Environmental Health Department if it is deemed to be a risk.
The department's director Stewart Petrie said: "During certain periods on certain beaches there is a licence to remove seaweed of any type to the high water mark, and that's carried out by the Infrastructure Department on behalf of the states. Above that, if I feel there is a risk to public health - either because of accumulation being so big or because somebody is diving into the seaweed - there's a protocol to request additional measures for seaweed to be removed on public health grounds. If the build-up was getting towards that kind of level, which is unlikely, we would have it moved."
Mr Petrie explained that his department had previously tested for hydrogen sulphide - produced during decomposition that can be lethal in sufficient doses - when there was a strong rotting smell across St Aubin's Bay. However, he said that there had not been sufficient levels of the gas to register on the equipment during the exercise.
Several options to deal with the bay's sea lettuce have been put forward, including allowing oysters to be cultivated in the area to filter out the nutrients responsible for promoting the plant's growth. Elsewhere, environmental group Save Our Shoreline Jersey say that carving shallow trenches at angles to the tide could create ripples to prevent sea lettuce from settling and becoming established.
Credits - This true article, "Jogger dies after being overcome by fumes from toxic seaweed as deadly as cyanide" by Tom Bevan and Marc Walker, was published on the "Mirror".
---
| | | |
| --- | --- | --- |
| | | True running stories - A growing collection of incredible, bizarre, and unusual stories from the world of running. Prepared to be shocked at what we uncover when it comes to strange news, first-hand accounts, headlines, and reports from running around the world. |
---
Since September 7, 2007 - © Aerostato, Seattle - All Rights Reserved.


JOIN THE WORLDWIDE RUNNING NETWORK
5kCalendar.com | AccidentalAthlete.com | CalendarioTrail.it | CorrereNelDeserto.com | DeadRunnersSociety.com | HalfMarathon.net | ePodismo.com | MarathonCoupons.com | Maratone & Maratoneti | OlympicGamesMarathon.com | RoadRacingStats.com | Run100Days.com | RunningCalendar.com | RunningInItaly.com | TuttoMaratona.com | Ultramaratona.it | VerticalRunning.it | WorldwideRunning.com